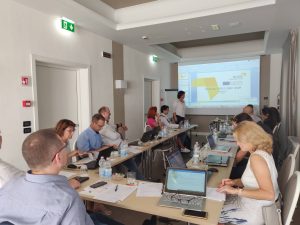 ELISE partners have met at the beautiful Italian coastal city – Rimini – with main goal: to discuss and prepare final draft of their respective action plans. Each of the regions presented improvements of their policies that will be implemented and are derived from ELISE project. Rest of the meeting was dedicated to presentation of local stakeholder initiatives and planning future steps of ELISE namely agenda of open event that will be held in Hamburg, December 2019.
7 drafts for action plans were presented 1 for each partner region, each of them tackling specific issues such as:
Poland – in current state the best developed plan was presented by Sławek Sołtys from Województwo Lubelskie – they intend to create new programme focused on knowledge transfer and internationalization of businesses. The second point of plan is R&D mobility program focused on scientific networking and internationalization of research and innovation projects.
Slovakia – presented by Martin Haranta from Cassovia Life Sciences – focus on improvement of funding opportunities for clusters via ERDF, imrpovement of innovation methodology on national agency and lastly on RIS3 of Košice region.
Italy – Art-Er Attrattività Ricerca Territorio is responsible for implementation of ELISE in Emilia-Romagna region of Italy. Their goal: increase utilization of research results not only to industry, but also for and with society.
Lithuania – Zaneta Stasiskiene from Kaunas University of Technology presented development of the whole innovation ecosystem of the city of Kaunas. They plan to create scientific committees involved in decision making of the ecosystem in order to create European level research hub.
Germany (Mecklenburg-Vorpommern) – Frank Graage from BioCon Valley presented their plan to increase funding for the late stages of technology readiness level in order to bring more products and services from the local research & innovation
France – Nicolas Dubouloz from Région Centre-Val de Loire, France presenting how ELISE project influences their innovation environment. They will create new opportunities to create links between academia and industry together with establishment of scientific committee in the region. More science in governance = better results
Germany (Hamburg) – Thomas Frahm from Life Science Nord presenting activity developed within ELISE – LSN Innovate! They will organise number of workshops focusing on topics such as innovation management, design thinking and create e-learning in order to create new tools for innovators in Habmurg!