2020 January 25th
LCA4REGIONS – "Improved Environment and Resource Efficiency through use of Life Cycle Instruments for implementation of regional policies of the European Union".:
For the first time since the beginning of this Interreg Europe project, partners of LCA4Regions went to the field of experiment: how life-cycle assessment (LCA) could be implemented in practice, namely, in environmental and resource efficiency policies. The partners chose Lithuania, where they discovered some local good practices and grasped the specificities of the situation in Lithuania and its' policies.
Kaunas, Lithuania – After a five-month incubation period, the LCA4Regions partners met in Kaunas,
Lithuania, for the first stop of their journey towards integrating life cycle (LC) approach in
public policies related to environment and resource efficiency. The Kaunas University of
Technology hosted this so-called Transnational Learning Journey (TLJ) on 15 and 16 January 2020.
TLJs – seven during the whole project – include thematic workshops, site visits, and peer reviews.
They are taking place in each of the seven territories targeted by LCA4Regions to provide partners
with a deeper understanding of the associated policies from the local perspectives.
Besides LCA4Regions partners, relevant stakeholders from Spain, Portugal, and Lithuania
joined the meeting: Acciona Energia, GAN-NIK (environmental management of Navarra), EDIA
(the public company managing the Alqueva Multipurpose Project), Castro Verde municipality, and last but definitely not least, the Ministry of the Economy and Innovation of Lithuania.
This first TLJ started with a thematic workshop entitled "From theory to practice", introduced by
Fritz Balkau, an external expert on life cycle methodologies and author of the book "Life Cycle
Approaches to Sustainable Regional Development". He highlighted key points of LC thinking and
applications, stressing the importance of both the upstream (supply chain) and downstream
processes for a holistic and effective improvement of regional policy instruments. The workshop
concluded with an overview of a toolbox that includes elements such as concepts, methods,
actions and management tools for proper LC approach implementation.
More information:
Jolanta Dvarionienė
LCA4Regions projekto vadovė Lietuvoje
jolanta.dvarioniene@ktu.lt
www.interregeurope.eu/lca4regions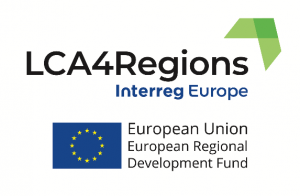 Kauno technologijos universitetas
Aplinkos inžinerijos institutas