KTU APINI together with partners from Austria, Ireland, Romania, Greece and Spain starts with a new project SUSRUR (Towards Sustainability and Resilient scenarios for turistiniams SMEs in RUral & Remote Areas). The project aims to support SMEs from 5 rural & remote areas of Europe (Asturias region (Spain), Western Macedonia region (Greece), Harghita county (Romania), Utena (Lithuania), Steirisches Vulkanland (Austria)), by promoting sustainability and innovative practices & strategies while providing tools and skills to strengthen their competitiveness, increasing their awareness and capacity to accelerate and implement the twin green & digital transitions.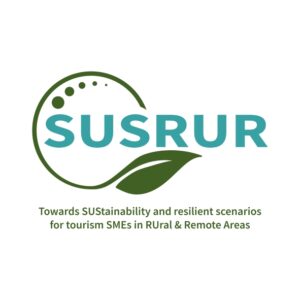 SUSRUR Expected Impact:
Enhanced resilience and competitiveness of tourism SMEs through better uptake of sustainability principles, innovation, and digitalisation (i.e. use of new technologies, greening, data).
New business models in tourism building on digitalisation, new technologies, sustainability, circularity.
Enhanced cooperation along the tourism value chain.
Improved transnational and cross-border cooperation, knowledge transfer and peer learning.
Support the recovery of the tourism ecosystem from COVID-19 crisis by providing best practices for recovery investment.
Other Short-term impacts -Environmental, Economic.
Improve a common understanding of responsible tourism in regional level.
Support regional tourism visibility schemes.
Replicate energy transition plans and digitalization strategies.