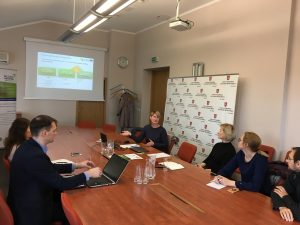 On November 13, at the invitation of scientists of Kaunas University of Technology (KTU) Institute of Environmental Engineering. Interreg Europe project BIGDATA4RIVERS was presented at the Ministry of the Environment.
The aim of the project "Improving the European River Water Quality through Smart Water Management Policies" is to involve the authorities in the discussion on improving river water quality through advanced water management technologies. The 48-month project partners' plans include exploring new ways of exchanging good practice and experience with local authorities in managing water resources and improving water quality.
The BIGDATA4RIVERS project involves organizations from across the European Union. The project consortium consists of 4 governmental bodies: Iberian Douro Association of Municipalities (ES), Attica Regional Development Fund (GR), Österg County Administrative Board (SE), Alto Minh Municipal Association (PT), Water and Environment Competitiveness Cluster (FR) , research institution – Kaunas University of Technology (LT), as well as National Union of Romanian Entrepreneurs (RO).
In addition to the exchange of advanced technologies and best practices in water management policy, the project provides for six international events to enable representative regions to host their counterparts from the project partner countries for thematic seminars and to participate in exchange of good practices.
More information:
Jolanta Dvarionienė
LCA4Regions Project Manager in Lithuania
jolanta.dvarioniene@ktu.lt
www.interregeurope.eu/lca4regions