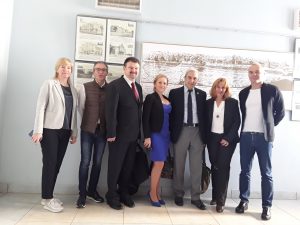 The project MARUEEB "Master Degree in Innovative Technologies in Energy Efficient Buildings for Russian & Armenian Universities and Stakeholders" is nearing it's completion. This Project was implemented within the framework of ERASMUS+ program during 2015-2018. 20 partners from various countries (Russia, Italy, Romania, Slovakia, Lithuania, and Armenia) have participated in the Project activities. Lithuanian partners are KTU School of Economics and Business and Institute of Environmental Engineering (APINI). MSc program on Innovative technologies in Energy efficient buildings was created for 3 Russian Universities and 2 Armenian Universities with affiliation to other 2 Russian Universities, according to student-centred or output-based approach (http://marueeb.sti.urfu.ru/en).
Collaboration between project's partners successfully continues to prosper since the project has been performed. E.g., in October 10-12, 2018 an international scientific-practical conference "Digitization of the Agro-Industrial Complex" was organized by Tambov State Technical University (TSTU) with the financial support of the Russian Foundation for Basic Research. This conference was attended by representatives of science, industry and agriculture from various regions of Russia and other countries, incl. representatives of the MARUEEB project partners from the National Polytechnic University of Armenia, the Institute of Environmental Engineering (APINI) of the Kaunas University of Technology (KTU), the University of Genoa and the Università degli Studi della Campania "Luigi Vanvitelli".
KTU APINI Assoc. Prof. dr. Irina Kliopova participated in the discussions of round table of the conference and presented the report regarding application of Industrial Ecology methods in the agro-food industry for optimization of biodegradable waste management processes, by producing alternative energy and / or high quality products.
During this conference representatives of the MARUEEB partners visited the laboratory "Energy Efficiency in Constructions", which was installed during the project, collaborated with the colleagues from the TSTU department "Structure of Buildings and Constructions", as well as representatives for International Activities of TSTU and successfully conducted a series of lectures on Energy efficiency for 4th year students of the Institute of Architecture, Civil Engineering and Transport, who will have an opportunities to study in a new international Master's Degree program in the forthcoming academic year.