Šių metų gegužės 25 d. – 27 d. Kauno technologijos universiteto Aplinkos inžinerijos instituto tyrėjai dalyvavo projekto "Žiedinė ekonomika – efektyvus pramonės medžiagų ir energijos srautų uždarymas" partnerių susitikime bei veiklose. 
Projektas vykdomas pagal Lietuvos – Šveicarijos programą "Moksliniai tyrimai ir plėtra" ir finansuojamas Lietuvos ir Šveicarijos bendradarbiavimo programos lėšomis. Institucijų partnerystės Projekte dalyvaujantys KTU APINI ir Vilniaus Gedimino technikos universiteto (VGTU) mokslininkai, bendradarbiaujant su Šiaurės Vakarų Šveicarijos taikomųjų mokslų ir menų universitetu (University of Applied Sciences and Arts Northwestern Switzerland) siekia nustatyti ir sistemiškai įvertinti išteklių naudojimo efektyvumo didinimo galimybes Lietuvai svarbiose pramonės šakose.
Gegužės 25 d. įvyko seminaras "Vandens tiekimo sistemų efektyvumo didinimas taikant vandens nuostolių mažinimo priemones", buvo skirtas įmonėms kurios tiesiogiai užsiima vandens tiekimu ir konsultacinėms įmonėms dirbančioms vandentvarkos sektoriuje. Seminare dalyvavo 36 dalyviai iš įvairių Lietuvos įmonių dirbančių vandentvarkos sektoriuje. 32 dalyviai buvo iš 16 skirtingų vandens tiekimo įmonių, 4 atstovai buvo iš įvairių konsultacinių įmonių. Seminaro metu buvo pristatyta Šveicarijos patirtis mažinant vandens nuostolius vandentiekio tinkle. Pristatyta naudojama įranga, aptarti naudojamos įrangos privalumui ir pateikti praktiniai įrangos panaudojimo pavyzdžiai. Seminaro dalyviams pateikta metodinė medžiaga apie vandens nuostolių mažinimą, parengtos konkrečios gairės pradedant projekto planavimu, vykdymu ir rezultato pasiekimu. Seminaro dalyviai galėjo ne tik susipažinti su teoriškai galimomis vandens nuostolių mažinimo priemonėmis, bet praktiniais pavyzdžiai iš Lietuvos ir Šveicarijos geriausių projektų ir pasiektų rezultatų. Seminare pristatyta vandens nuostolių įvertinimo kompiuterinė programa WU-Compass, kuri projekto metu buvo adaptuota šalies vandens tiekimo įmonėms.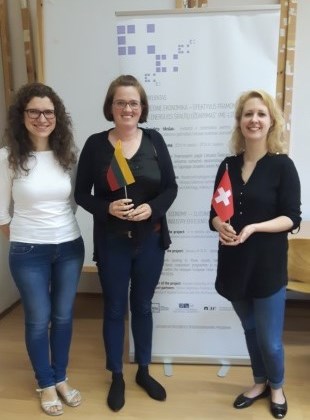 Gegužės 27 d. įvyko pristatymas diskusija: "PET pakuočių srautų analizė ir valdymas kuriant žiedinę ekonomiką". Diskusijos metu pristatyta PET srautų analizė Lietuvoje, aptarta uždaro ciklo sistema. Šiaurės Vakarų Šveicarijos taikomųjų mokslų ir menų universiteto (University of Applied Sciences and Arts Northwestern Switzerland) mokslininkė Corinna Braumgartner pristatė Šveicarijos PET perdirbimo sistemą bei pasidalino Šveicarijos patirtimi tvarkant PET srautus. Šveicarijoje apie 60 proc. perdirbtų PET butelių naudojama naujų PET butelių gamyboje. KTU APINI mokslininkai atkreipė dėmesį, jog Lietuvoje pakankamai sudėtinga įvertini PET srautus dėl duomenų trūkumo, todėl bendradarbiavimas su verslo bei valstybiniu sektoriais yra būtinas, siekiant įvertinti situaciją bei priimant aplinkosauginiu, ekonominiu bei socialiniu požiūriu naudingus sprendimus.