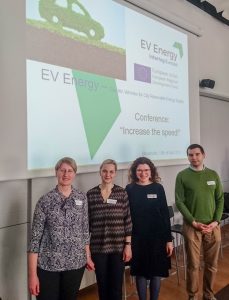 In April 2018, e-mobility and energy experts from Stockholm gathered with EV Energy representatives and stakeholders to share knowledge and experience about charging infrastructure initiatives and smart grid solutions across Europe.
The most important conclusions of this meeting are:
Increasing the number of public charging stations is a must. Home and office charging are dominant charging forms. However, also the public charging infrastructure must keep pace with the current mass introduction of electric vehicles. A thump rule, based on the recommendation of the European Commission, is to offer one public charging point per ten registered electric vehicles in a defined area (municipality or region). Moreover, the charging infrastructure has to build up at the right spots and with regard to other needs of public spaces (trees, cleaning, space for snow, etc.). Finally, also the needs of disabled people have to be considered when installing public charging points.
User friendly charging infrastructure. Challenges here are, among other things, that several private and public actors are involved. Standardised and more user-friendly rules are required for parking and payment at public charging stations.
Develop smart charging systems – V2G. This means that electric vehicles are considered as part of the energy system. In this way, locally produced electricity (solar or wind power) can be stored in the batteries of the electric cars and if demanded reinserted into the grid. This can balance irregular local production of electricity and also effect imbalances of the grid in general.
Coordination of efforts. More test and demonstration projects are required for smart charging systems. Such efforts must yet comply with real needs of users and energy providers. A coordination within a municipality and/or region is therefore recommended.
Planning and ensuring of power grid capacity. An early involvement of electricity companies in planning and construction of charging infrastructure is crucial for guaranteeing a sufficient supply of power at any time.
Customise regional and city planning for e-mobility. This means that e-mobility, as a possible game changer of urban mobility, has to be considered much more in the future when it comes to urban planning. As noise and emission levels of traffic considerably decrease, possibilities for housing projects arise in areas, where to date they are still restricted by law.
Changed behavior is important for transition towards e-mobility. Automatisation may enable drastically changed behavior as well as "servicification" will. Electrification may give the user the experience of 100% sustainability but in total the changes may lead to unwanted or wanted consequences depending on the sum of individual behaviors. This must be considered when planning for increased e-mobility.
The next international stakeholder event will take place in Barcelona on the 3rd October 2018. Save the date and stay informed about the latest developments of electric mobility in Europe!
For more information you are welcome to visit:
https://www.interregeurope.eu/evenergy/