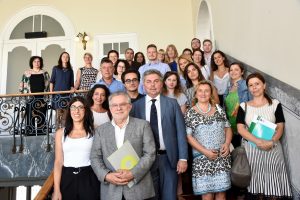 LOCARBO records a successful completion of 2,5 years of intense interregional learning, within which useful information and suggestions have been collected, together with a very productive exchange of experiences, and analysis of specific existing and validated best practices.
Several achieved outputs reflect this success: 8 Interregional meetings, 6 Local Living Lab meetings per partner, 3 Institutional Learning Platform meetings per partner, 3 Stakeholder Cafés, 1 Managing Authority Café, 7 Regional Analysis & Ambition Info Sheets, 23 Validated Good Practices, 1 Good Practice Inventory, 7 Mid-Term events, and 7 Local/Regional Action Plans.
Local communities and stakeholders played a fundamental role for the success of the project until this phase, providing an important added value for the elaboration of the Local/Regional Action Plans and result dissemination.
The 7 Local/Regional Action Plans are distinctive in terms of intervention domains/focus, but all of them are coherently linked to LOCARBO thematic pillars (services, organizational structures and technological solutions). Most of them address the involvement of communities on awareness sessions, then deploying in more focused actions related with energy efficiency and smart energy management in public buildings/infrastructures and the residential building sector, while others exploit a SMEs and new industrial services/markets approach.
All the Local/Regional Action Plans are now ready to be put into practice by the respective partners, who are focused on exploring innovative action lines on the territories they represent, pursuing the LOCARBO project aims.
The formal completion of this phase occurred at the LOCARBO project 5th Steering Group and 6th TWT meeting, on 25-26 September, hosted by Vila Nova de Gaia (PT) municipality. The two-day meeting included public and closed sessions to provide to LOCARBO partnership and respective Managing Authorities representatives, but also local/regional political stakeholders, business entrepreneurs, and municipal technicians, the opportunity to share energy efficiency best practices and the work developed over the past two years within LOCARBO project.
The meeting concluded with more dedicated partnership activities to discuss technical and financial project issues and evaluate the results obtained within Phase 1 of LOCARBO, thus completing this project phase milestone.
More information:
http://www.interregeurope.eu/locarbo/
https://www.facebook.com/Locarbo-Project-1778532815755122/