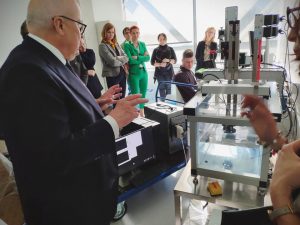 The Rector of Kaunas University of Technology, prof. dr. E. Valatka, presented a short overview of their organization focusing on the aspects related to research and innovation in the Life Science field. The first session of the meeting was dedicated to gaining insight into the Life Science related activities run in Kaunas. Lithuania was presented as an agile, fast moving country that is in the process of building an innovation ecosystem.
ELISE partners briefly introduced themselves and their main areas of interest (LSN: bone healing, infectious diseases and digital health; CENTRE VAL DE LOIRE: pharmaceuticals and connection between Universities and businesses; ASTER: clinics, regenerative medicine and orthopaedics; BIOCN: healthy food and focus on rural areas; CLS/KOSICE: research thanks to Universities but not much thanks to R&D activities within private companies).
A keynote speech was delivered by Professor Ragauskas, KTU Institute of Health Telematics Science, on Ecosystems and their significance for life science innovation development.
Following the key note speech a presentation on "Linking science and business – KTU NIEC experience" was delivered by M. Bulota, Director National Innovation and Entrepreneurship Centre.
Partners had the opportunity to visit several scientific institutes of KTU, namely:
Biomedical Engineering Institute
Ultrasound Research
Health Telematics Science
The second day was opened with a 5-minute exercise session to emphasise the importance of a healthy life style. Partners had the chance to listen to a presentation of the Kaunas City Municipality Public Health Bureau focusing on their programmes to incentivise healthy life style in practice, not just in theory. The programmes presented were the following: Be healthy and fit / Suicide prevention / Improving health for workers / Healthy ageing / Healthy nutrition / Mental health. Furthermore, the activities of the Kaunas Science and Technology Park were presented, including innovative products developed in the area (i.e. ViLim Ball).